From endlessly fascinating urban centers to beautiful beach resorts and stunning mountain destinations, Turkey offers a wide variety of opportunities for visitors to enjoy. With its diversity of climates and range of natural landscapes, not to mention wonderful seasonal cuisine, Turkey is a great place to visit all year round. However, there are some times that travelers might find prices increase and there are more crowds to contend with. Here you'll find information to help you choose the best time to visit turkey and plan your dream vacation according to Turkey's travel seasons. 
Like other countries in the world, Turkey celebrates a few major national holidays. The top two that travelers should keep in mind are the Muslim holidays of Ramazan Bayramı or Eid al-Fitr and Kurban Bayramı or Eid al-Adha. These holidays are determined based on the lunar calendar so their dates will vary every year. Travelers should be aware of these holidays before planning their trip as they might encounter higher prices for accommodation and airline tickets as well as bigger crowds at attractions and tourist destinations. 
The Best Time to Visit Turkey 
The best time of year to travel to Turkey is Autumn and Spring, from April to May and September to October. During these shoulder seasons, you can experience the best weather in Istanbul and other urban centers, and enjoy the historic sites and cultural offerings. This is a great time to enjoy cafes or outdoor restaurants without the heat. For those who prefer the coasts, it's also a good time to head to the beaches which won't be as crowded compared to the summer months. Adventurers will benefit from great weather for hiking and camping in the Turkish mountains during these months. Do keep in mind that the weather may vary from day to day, especially in April and October. It's recommended to pack for both sun and rain to be prepared.
During the hottest months from June to August, travelers usually seek out the beautiful destinations that line the coasts of the Mediterranean and Aegean seas. These months are the best for beaches and relaxing at one of Turkey's famous resorts. It's also a great time for backpacking through the coastal cities and visiting beaches along the way. If you choose to head to a city like Istanbul or Cappadocia, there are plenty of festivals and outdoor activities for visitors to enjoy. However, do keep in mind that the weather will be rather hot and humid in the cities, so you might find it preferable to stay near the coasts or head northeast to the highlands of the Black Sea mountains to cool off. Of course, this is peak time for beaches and resorts, so make sure to check tickets in advance to get the best prices. This is a great time for shopping in Turkey, as most stores have sales starting as early as June and ending around mid-August.
Turkey experiences the full range of seasons, and winter is no exception. From November to March, Turkey can get very cold and the mountains are covered in snow each year. While this might deter sun-seekers, it's the best time to visit turkey for snow sports and cozy getaways. This is the perfect time to go skiing and explore some of the Turkish after-ski traditions. Some popular destinations for skiing include Mount Erciyes in the region of Cappadocia and Kartepe and Uludağ which are easy to access for those flying into Istanbul. During this season, you can warm up in some of the world's best museums or opt to visit a Turkish hammam or public bathhouse for a spa-like experience. There will be plenty of sales that usually start mid-December and end around February for those looking to spend some of the local currency in Turkey, the Turkish lira (TL) at some of Turkey's famous malls and shopping districts. This is also a great season to try out some winter dining experiences at a meyhane, a warm meal of Turkish various small shared dishes and the famous anise-flavored raki liquor, or an ocakbaşı, where you can sample the best of Turkish grilled meat and side dishes. 
What Cities are in Turkey? 
The top five cities in Turkey all have their unique charms and destinations. Istanbul is the largest city in Turkey with the greatest number of residents. Ankara, the capital of Turkey, is next in terms of population, followed by Izmir, Bursa, and Antalya. Istanbul is the economic and cultural hub of the country, with most flights arriving at one of its two airports. Ankara is known for its political history and universities. Izmir is a coastal city with a more laid-back atmosphere. Bursa, the first Ottoman capital, is known for its thermal baths and historical sites. Antalya is one of the most popular tourist destinations and is home to many annual events, historical sites, and incredible landscapes. Another notable city is Göreme, carved from volcanic rock and located in Cappadocia. It is where travelers go to visit Göreme National Park, a UNESCO World Heritage Site, and sample traditional Turkish cuisine. For those who enjoy boating and resorts, Fethiye is a beautiful port city located in the Muğla Province.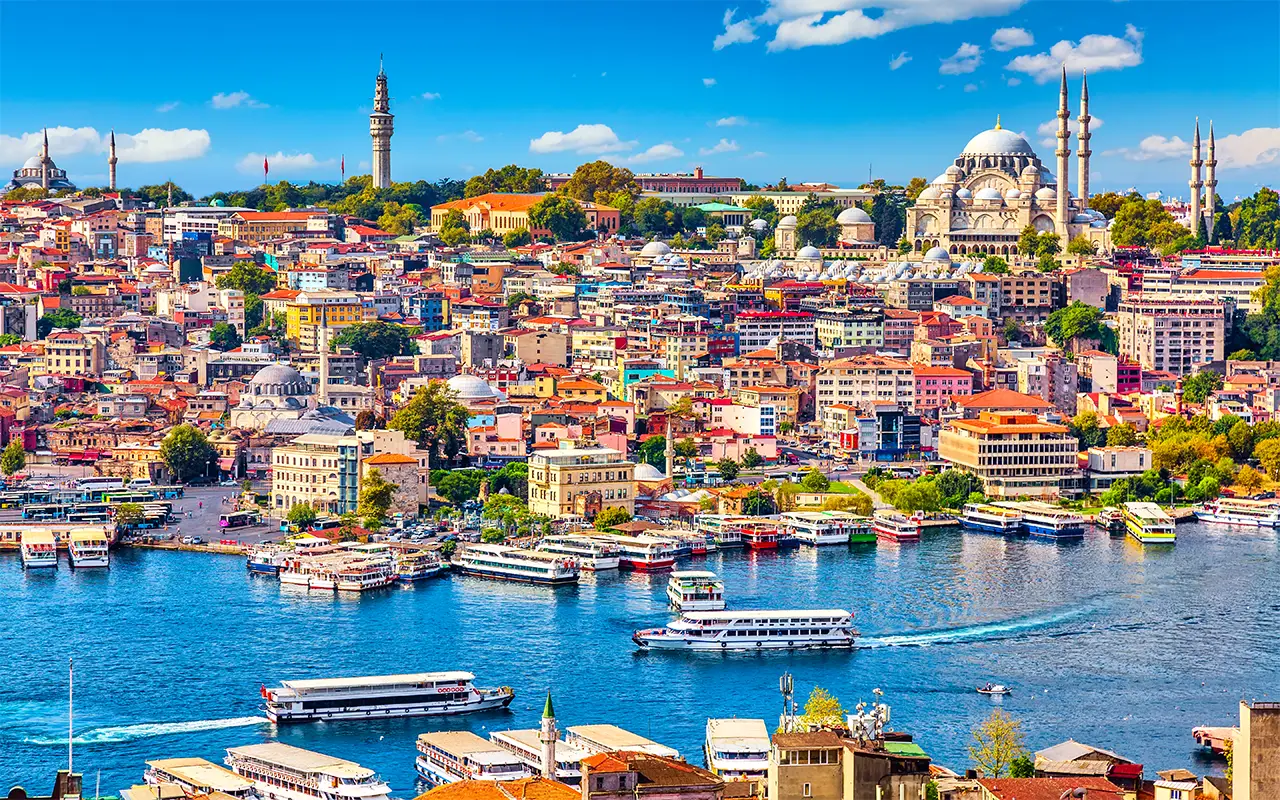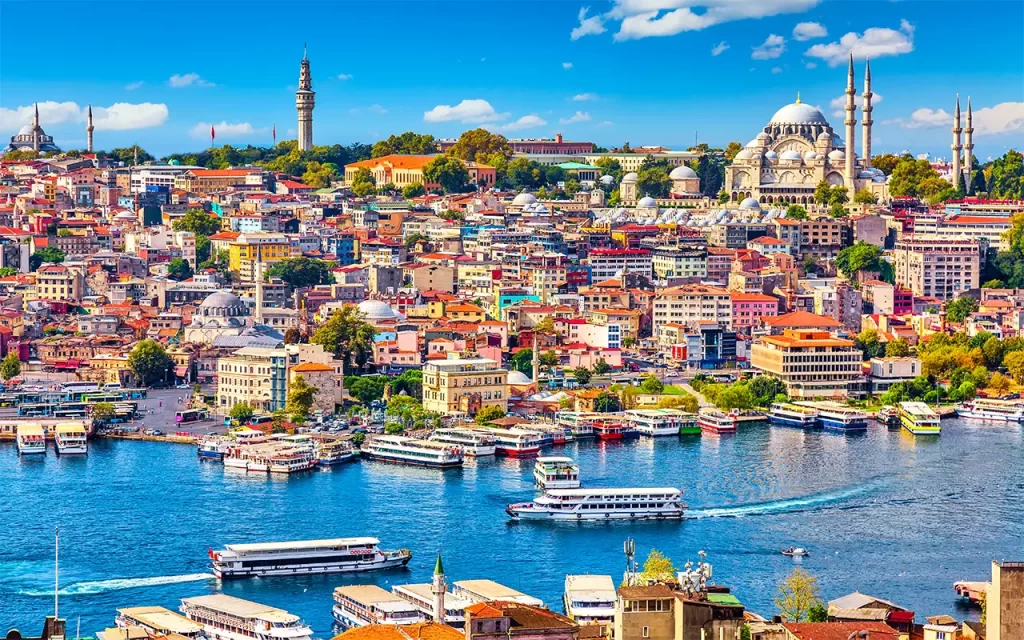 When To Visit Istanbul 
Spring and Autumn are great times to visit all the wonders of Istanbul. From famous restaurants to historic sites like Topkapi Palace, the Sultanahmet Mosque, the Hagia Sophia, and the Galata Tower, the weather is mild during these seasons and there are many events taking place. While you might encounter rain in October and April, these are usually sunny seasons great for spending time outdoors or visiting one of the city's many parks. There is great shopping to be found all year round, but the biggest sales take place around January and from June to August. 
When To Visit Cappadocia 
Cappadocia is a great regional destination for all seasons. There is skiing in the mountains in the winter and stunning natural landscapes to see during the shoulder seasons. Located in Eastern Turkey, this region is arid with many destinations to visit. Its unique caters and geographical formations make it a popular destination for hikers and backpackers. the best time to visit turkey in general and Cappadocia in particular is from April to May and September to October to avoid heavy rain and wind. The summers are very hot and dry, so be sure to check the weather forecast before traveling! 
Traveling to Turkey
Getting to Turkey to enjoy all these incredible sites and experiences is a straightforward process. For many nationalities, an e-Visa for Turkey can be requested in just a few minutes by filling in the online application form. Successful visas are usually received within 48 hours. Nationalities that are not eligible for an e-Visa can apply for a sticker visa through a Turkish embassy or consulate, or at a Visa Application Center (VAC). The visa requirements for every nationality will vary, so it's important to check what requirements to travel to Turkey are necessary for your unique situation.